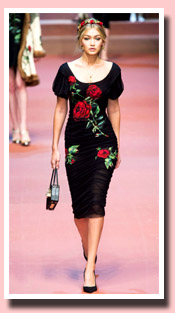 GIGI HADID
FASHION WEEK FALL / WINTER 2015
Only her second Fashion Week season and breakout model Gigi Hadid had one outstanding month.

She kicked off her season in New York on the football field for Tommy Hilfiger and closed out the Big Apple opening the show for Anna Sui. In Milan she made her Fashion Week debut channeling Marilyn Monroe while opening the show for Max Mara, while perfectly fitting with the all-star supermodel cast for Emilio Pucci. Then that "Grande momento" moment happened when she received her official Dolce and Gabbana crown, and how can we not forget that finale walking side by side with Karlie Kloss.
The bombshell then landed on the moon in Paris walking for H&M while closing out her season for Sonia Rykiel. In all she walked 12 shows which may not seam that incredible when some girls walk more than 40, but we always say It's not how many shows you walk in a season, it's about the shows you make memorable, and the angelic Gigi Hadid certainly did make every show memorable.
Mar 11 2015

---
recent: Gigi Hadid
---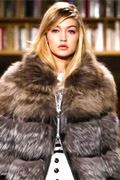 Gigi Hadid
Paris Fashion Week FW15 runway favorites: Sonia Rykiel
Gigi Hadid
Selfie with Doutzen and Lily Donaldson
Jessica, Constance, Gigi, Devon
Paris FW Balmain after party (photo)
Gigi Hadid
Off the runway at Paris Fashion Week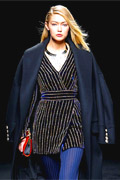 Gigi Hadid
Paris Fashion Week FW15: Balmain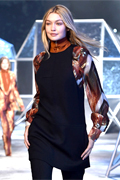 Gigi Hadid
Paris Fashion Week
FW15 : H&M
Gigi Hadid
Paris Fashion Week off the runway (photo)
Gigi Hadid
Dolce&Gabbana FW15 crown
Gigi Hadid
Can you spot her D&G crown in the FW show Finale (photo)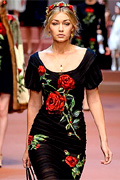 Gigi Hadid
Get her official Dolce & Gabbana crown at Milan Fashion Week FW15

Karlie and Gigi
Runway-gram MFW FW15:
Dolce&Gabbana finale
Gigi Hadid
Runway-gram MFW FW15:
Dolce&Gabbana debut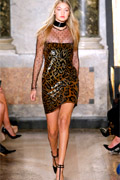 Gigi Hadid
Roars in sexy leopard print for her Emilio Pucci debut. MFW FW15
Gigi, Izabel and Karlie
Backstage at Emilio Pucci FW15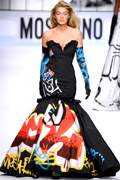 Gigi Hadid
Closed the show for Moschino at Milan Fashion Week FW15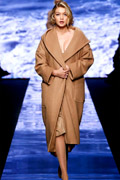 Gigi Hadid
Makes her Milan Fashion Week debut : Max Mara
Bella and Gigi Hadid
Apple really don't fall far from the tree #HadidGirls (photo)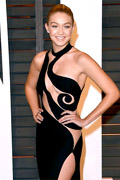 Gigi Hadid
Kisses and giggles 2015 Oscars party (photo)
Gigi and Heidi
2015 Oscars party (photo)
Gigi and Alessandra
2015 Oscars party (photo)
Gigi Hadid
Up close and beautiful: Tom Ford AW 15 show (photo)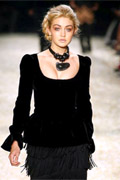 Gigi Hadid
Tom Ford AW15 Los Angeles Show
Gigi Hadid
Making her NY Fashion Week rounds (photo)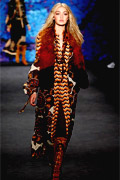 Gigi Hadid
Opens the show for Anna Sui at NY Fashion Week FW15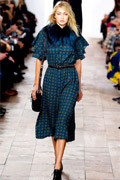 Gigi Hadid
NY Fashion Week FW15 runway favorites : Michael Kors
Gigi and Toni
Perfecting the front row selfie (photo)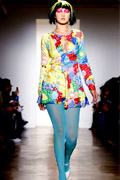 Gigi Hadid
NY Fashion Week FW15 : Jeremy Scott
Gigi Hadid
NY Fashion Week front row show stealer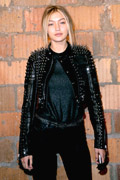 Gigi Hadid
Rocks metal spikes at NY Fashion Week
Gigi Hadid
NY Fashion Week FW15 : Tory Burch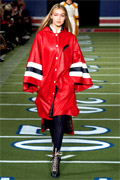 Gigi Hadid
NY Fashion Week runway favorites : Tommy Hilfiger
Gigi Hadid
Short hair bob for Antidote Spring 2015 (photo)
Jourdan and Gigi
Touch down for Tommy Hilfiger NY Fashion Week FW15 show (photo)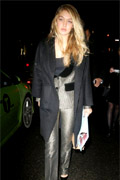 Gigi Hadid
Supermodel style on the go : NYC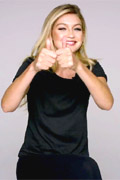 Gigi Hadid
Lets in you on her Vogue Spain cover shoot (video)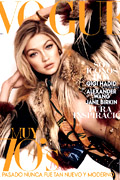 Gigi Hadid
That moment a model never forgets, her first VOGUE cover! Vogue ES March 2015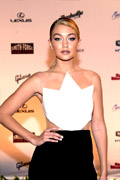 Gigi Hadid
That Look! Peggy Hartano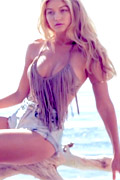 Gigi Hadid
Gives you a 5 minute behind the scenes look at her GUESS Denim Spring 2015 campaign. (video)
Gigi Hadid
First Teen Vogue Cover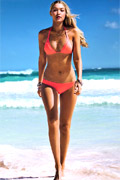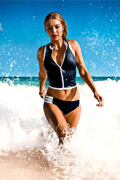 Gigi Hadid
The new face of Seafolly (video)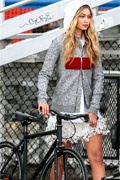 Gigi Hadid
On shoot in Venice Beach
Gigi Hadid
Can hit a pose like she's been doing it for 15 years
Gigi Hadid
Working on a special project