TAYLOR HILL
VS SWEETEST NEW ANGEL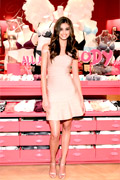 A few years back when Karlie Kloss joined the illustrious Victoria's Secret Angels, it took some time for her to grow on those die-hard angel fans, seeing someone new with their beloved angels wasn't an easy task.
When VS announce the whopping 10 new Angels, the transition has been much easier this time around. We are constantly asked who will become house hold names like Angels we've all gotten to know as faces for the brand?
There are a few on our list, one in particular TAYLOR HILL, the All-American brunette stunner is very easily liked, her fan base is growing at a extreme rate, and for her first solo event in Chicago she absolutely nailed it as spokesmodel, speaking on the products like a seasoned VS Angel.
Aug 6 2015