TAYLOR HILL BELLA HADID
COVERS VOGUE PARIS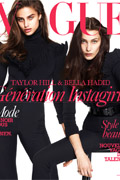 VS Angel Taylor Hill and model of the moment Bella Hadid cover the September 2016 issue of French VOGUE, with a gorgeous cover shot by Mert & Marcus.
Though we disagree with the magazine labeling them as instagirls. The instagirl nonsense was over and done 3 years ago, just like the social media model hype was over 3 seasons ago.
Taylor Hill has been working in this industry for years, she and Bella Hadid are 100% true models. They would still be were they are now, even if social media didn't exist.
Aug 13 2016