ALESSANDRA AMBROSIO
SUPERMODEL OF THE YEAR 2016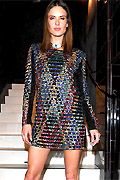 2016 was a magical year for Alessandra Ambrosio the supermodel / mother / designer / business woman / VS Angel. She demonstrated that after a decade and a half of walking the Victoria's Secret Fashion Show, she is more gorgeous now than ever before.
Her creative talent was put to work launching a body art line just in time for Coachella, and followed up later in the year with her second clothing collection for ale' by Alessandra.
At Paris Fashion Week she set the runways on fire, just like every chance she go to hit the sunny beaches keeping in theme with her Forever on Vacation motto.
Her magazine editorials amazed through out the year, as did her countless covers.
Click to see Alessandra's 100 stories of 2016
Jan 1 2017