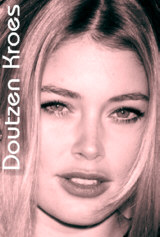 Doutzen Kroes:
Doutzen Kroes, blue eyed blond Dutch bombshell is one of the fastest models to rise to status as supermodel.

While so many inspiring girls struggle for years to become models, Doutzen modeling rise to fame was simple. As simple as a dream come true for many young aspiring models.


After graduating from school one day she sent in a few photos to a Amsterdam modeling agency. Like a dream come true for so many, for her it was instant reality, a model was born. So many people go to modeling schools, take lessons, pageants, etc. However, like it goes in the modeling bussiness your either born with it or not.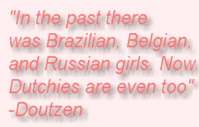 Doutzen was born in Eastermar, Netherlands. She follows in the foot steps of the 90's Dutch supermodels before her Frederique van and Karen Mulder. Over the past years the Brazilian supermodels such as Alessandra Ambrosio and Adriana Lima among a list of many others have dominated the supermodel scene.
However, as we enter back into a new era of supermodels making their way back on the covers of fashion magazines it's a fresh change to see a new blond hair blue eyed face. Doutzen says, " In the past there were many Brazilian, Belgian and Russian girls. Now the Dutchies are even too! "
A models dream came true in 2004 when she landed her first cover for French Elle. As Doutzen's career took off she was soon appearing on fashion magazine covers such as Vogue, Elle, W, Harpar's Bazaar, pretty much every fashion.
As her modeling popularity grew Style.com featured her as rising star of fall 2005 and she was chosen as readers Model Of The Year on Vogue.com in 2005.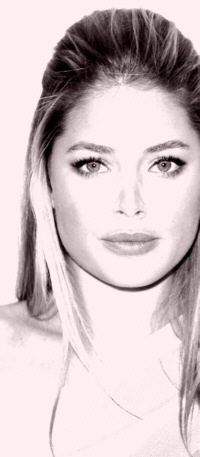 Her first American cover was for Vogue in May 2007. It was a cover titled "The New Crop of Supermodels" which she shared with fellow models Coco Rocha, Jessica Stam, Caroline Trentini, Raquel Zimmermann, Agyness Deyn, Hilary Rhoda, Chanel Iman, Sasha Pivovarova, and Lily Donaldson.

Along with photo shoots Doutzen has also been busy working the run ways and ad campaigns for designers Gucci, Calvin Klein, Tommy Hilfiger, Escada, Dolce & Gabbana, Valentino, Versace, Escada, the list goes on.

Doutzen made her first television appearance on the runway in Victoria's Secret 2005 fashion show and went on to be a regular in their catalog.
We have supermodels and we have famous angels, well Doutzen got her famed wings in 2008 when she became part of the elite group of supermodels when she official became a Victoria's Secret Angel in 2008. Edward Raze, whom has been selecting the models for Victoria's Secret for over ten years said , " I wish we had snapped her up a long time ago."
Doutzen's is spokesperson for Calvin Klein Eternity fragrance and the newest face of L'Oréal Paris. She was photographed by Patrick Demarchelier last year for the famous Pirelli calendar. Her career has skyrocketed in her short time of modeling. Glenda Bailey Harpers Bazaar editor said," It would be no surprise to me if she became one of the top models of our time."

As we head forward to seeing models once again in the fashion world that was dominated over the past years by celebrities. It's such a welcome to have our models back to modeling. Doutzen Kroes is certainly a model that's pushing forward, leading the way like a true supermodel should.
Mykol Ledesma - supermodels-online.com


---
Sites and info on the net: