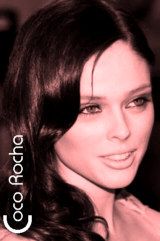 Coco Rocha:
Oh Canada' how the modeling world has been rocking ever since Coco Rocha hit the modeling scene.
Such classic beauty, beauty of the moment, and beauty as the future of modeling. Coco Rocha still young in her modeling career will be looked at ages from now as one of the great iconic models.
Her chameleon look and beautiful style makes her the perfect supermodel of this modeling generation. Her alluring eyes and exquisite facial features added with her perfect 5'10 lines makes her the supermodel that can do it all.
She's beauty in motion on the runways and yet in her ad campaigns and editorials bring to life a story in every photograph. From magazine covers to commercials Coco Rocha's charismatic personality shines.
Since the term supermodel came about there has never been a model with a personality as Coco. She not only lights up a runway but she can light up a cover. She's bubbly fun and it comes across in all of her work. That is one of the things that has made her a supermodel favorite for so many fans.

Coco puts herself into her modeling career and with her personal videos and blog her fans feel like she is a supermodel that they can be in touch with.
Like many supermodels modeling wasn't a career choice that Coco had ever thought of pursuing. Actually, Coco didn't even know a thing about fashion until her career started to take off then she started to learn of designers and the big names in the fashion industry. Once she started to piece it all together then she started to realize that she modeling into something really big.
At time that she was discovered her main focus was Irish dance. In 2002 while during a Irish dance competition in Vancouver she was approached by a modeling agent but Coco kept telling him she wasn't interested. The agent knew Coco had great modeling potential and with persistence he would ask from dance competition to competition. She got tired of him asking and said, "ok I'll take a look at it if that's what it's going to take to make you stop asking."
In 2004 she started her professional modeling career for SUPREME modeling agency in New York City. A few years later in 2006 she was photographed for a W magazine in her first major editorial. That same year she landed her first monumental ad campaign for Dolce & Gabbana that was photographed by Steven Meisel.
Coco's career was soon starting to take off towards becoming a supermodel. Style magazine name her as rising modeling star of 2006. She went on to do runway shows for New York and Paris fashionweek.
Then that time came, that time in every models career that illustrious moment of modeling acclaim. Coco's first fashion magazine covers were for Italian Vogue and Numéro in 2006.
Through out her career she has appeared on every major fashion cover. She has walked the runways for all the top designers and has been in every astonishing ad campaign and editorial. She has recently married James Conran and is the newest mega star supermodel to join Victoria's Secret.
Supermodel Coco Rocha has accomplished so much since first being discovered at that dance competition.
Yet there is still something that makes her really shine....
From her out going beautiful sense of humor, to her radiant personality. Coco Rocha can be Irish-dancing on a Jean Paul Gaultier runway or making everyone laugh while dancing with Zac Posen at Fashion's Night Out.
She will always be the same "Oh so Coco"
Share |
Mykol - supermodels-online.com
---
---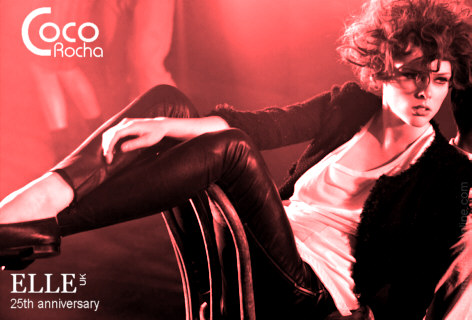 Coco Rocha ELLE UK 25th anniversary photo shoot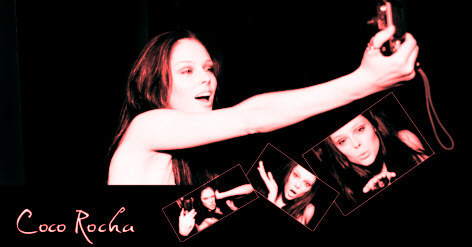 Coco Rocha official website Coco Rocha.com
Coco Rocha's behind the scene ELLE (UK) 25th year anniversary video