Cindy Crawford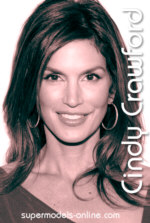 She is timeless, she is a real supermodel, she is the original Cindy Crawford.

The average models career is usually over in her mid 20s. Supermodels are special though, they were thought to have careers into their early thirties. Well after the big supermodel era with Cindy, Naomi, Claudia, Elle, Tyra and Christy many younger generations followed them. New names such as Gisele, Adriana, Alessandra, and Doutzen. Then came along even the next younger generation Coco, Sasha, Chanel, Brooklyn and Agyness just to name a few.

However, recently now in their forties the original 80's era have been doing a lot. Christy is still lighting up our faces with Maybelline, Claudia is still doing campaigns, Elle is the new host of Topmodel uk, Naomi is always on the fashion scene and now at 44 Cindy is back on the cover of Harper's Bazaar.

The term supermodel has been tossed around a lot over the years. We have seen models make the SI swimsuit cover and a year later no one remembers their name. There has even been Vogue one cover wonders that was just that, one cover compared to Cindy's 1000 plus magazine covers.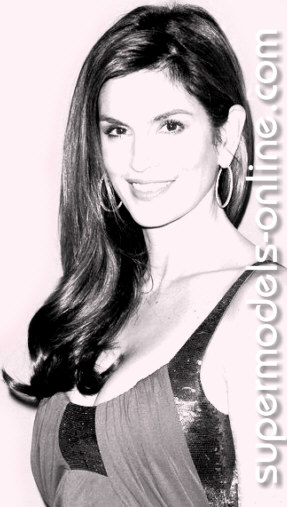 As time goes on you can always remember a true supermodels name.

When you think of the word supermodel, Cindy Crawford is the first thing that comes to mind. In the 80's when the term supermodels came about there was no other name in the world that was associated as much as the name Cindy Crawford. It was a time when the only faces that graced fashion magazine covers were those as such supermodels Cindy, Naomi, Claudia, Christy, Elle, and Niki. It was a time that to be a supermodel you were more glamorous and famous than many well known actresses.
Well after a few decades of supermodels things have changed, I mean yeah we still have our newer generation of supermodels such as Gisele. However, most fashion magazines tend to use actresses and celebrity's on the cover of magazines. They want to have covergirls that many people can relate more easily than 5'11' 110 pound supermodels.
However, the original supermodels are still around, such as Tyra with her talk show, many of the first generation of supermodels are still very active in the fashion / modeling world aswell as active business women.
Cindy has turn her modeling career in many directions since modeling in her teens. However, lets start from the beginning of her career.
Cindy was born in De Kalb, Illinois she is the second of three girls and four children. It was at age 16 while on her summer job of detasselling corn that a newspaper photographer took a photo of her. Cindy's photogenic look caught the eye of many people such and family and friends. The feed back was enough encouragement to quit her job working in the corn fields and take up modeling. Cindy went on to model for two summers represented by the prestigious Elite Model Management in Chicago.
She's just not all beauty, she has plenty of brains too. She had a 4.0 grade point average in highschool, scored perfectly on her college calculus exams, was valedictorian of her highschool, and won a chemical engineering scholarship to Northwestern University to study chemical engineering.
Cindy continued with her excellent grades at Northwestern University, but she stopped pursuing her degree in engineering and left college to pursue a full-time modeling career. She work with a famous photographer in Chicago building up a successful modeling portfolio then in 1986 she moved to the fashion capital of the world New York City. It didn't take long in New York for Cindy to be establish as a top model. Within a few years after moving to New York, Cindy was walking down the catwalks for famous fashion designers, and appearing on the covers of all the top fashion magazines.
Her image and name was established, she had that look, the famous mole on her cheek that all up coming models wanted, the body that many women would love to have, and all the right curves that made grown men melt like little boys. Cindy soon became known all over the world. It was the fashion and modeling community, the cosmetics companies, the men sitting around watching football games on Sundays when Cindy's multi million dollar Pepsi commercials would be on TV.
She was now just not a model but a supermodel. Her name and image was seen just about everywhere. She has appeared on more magazines covers than any other supermodel, she's been in movies, television commercials, first supermodel to ever appear in playboy, best selling workout videos of all time, hosted MTV's House of Style for six years, her own line of home interiors, and a spokes model Kays Jewelers and for Revlon cosmetics.
A wife and a mother, and look after being one of the original 80's SUPERMODELs and having accomplish so much as a model and successful bossiness woman.
Here we still have the original supermodels more than twenty years later still able to be a covermodel.
Cindy Crawford -supermodel.

Mykol Ledesma - supermodels-online.com


---
Here is the best of Cindy Crawford on the net

---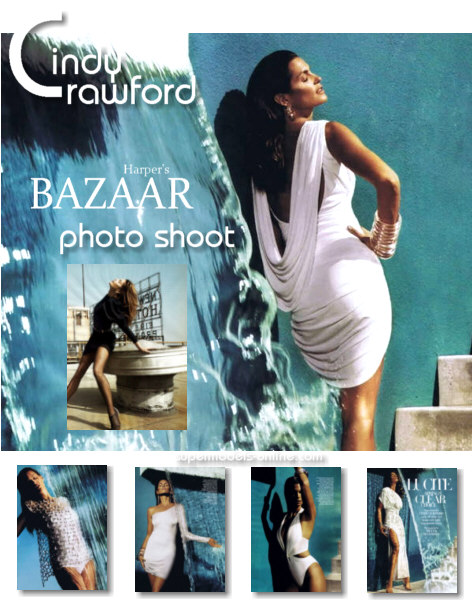 Cindy Crawford's Harper's Bazaar UK photo shoot
---
CINDY
.com
Cindy Crawford official website
Sites and info on the net: