TYRA BANKS
HOSTESS WITH THE MOSTEST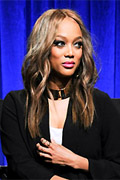 Ever since Tyra Banks retired the Tyra Banks show we've had that empty void in our hearts, just never got over our Tyra withdraws of seeing her zany humor on TV.
Sure there was that model show, but it never was enough Tyra, you know, the cray cray Tyra.
That was until the announcement this week that the Hostess with the Mostest is replacing Nick Cannon, as the new host of the popular America's Got Talent !
Can't wait to see the original cray cray beauty on the new season.
Mar 13 2017