SHANNON THALER
ONE YEAR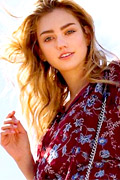 Today marks one year ago today since our favorite supermodel-in-training Shannon Thaler, graduated from highschool.
Since then she has walked the runway for Moschino, been photographed by Russell James, and traveled the globe which she lived a few months in Japan.
Her portfolio has grown with work from Stewart Weitzman, Allure, Pat Mcgrath, Tory Burch, Milly, and the latest shown here for Rebecca Minkoff Summer 2018.

A few months ago she also launched the cooking instagram blog The Foodie Cutie, all while maintaining to be the sweetest, most well grounded model in this industry to date.
Shannon, we are super excited for all the amazing projects in the works for year 2.
Jun 22 2018