ROSMARY ALTUVE
NO ANGEL WINGS NEEDED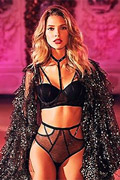 Rising star Rosmary Altuve doesn't need angel wings, when she is a goddess. The Venezuelan stunner is turning heads as the face of Italian lingerie brand Incanto.
Throughout the year her exotic look, paired with the beautiful designs and campaigns have set the brand in a league of it's own.
Keep an eye out for this supermodel in the making.
Dec 8 2019

DISCOVER MORE
it.incanto.eu